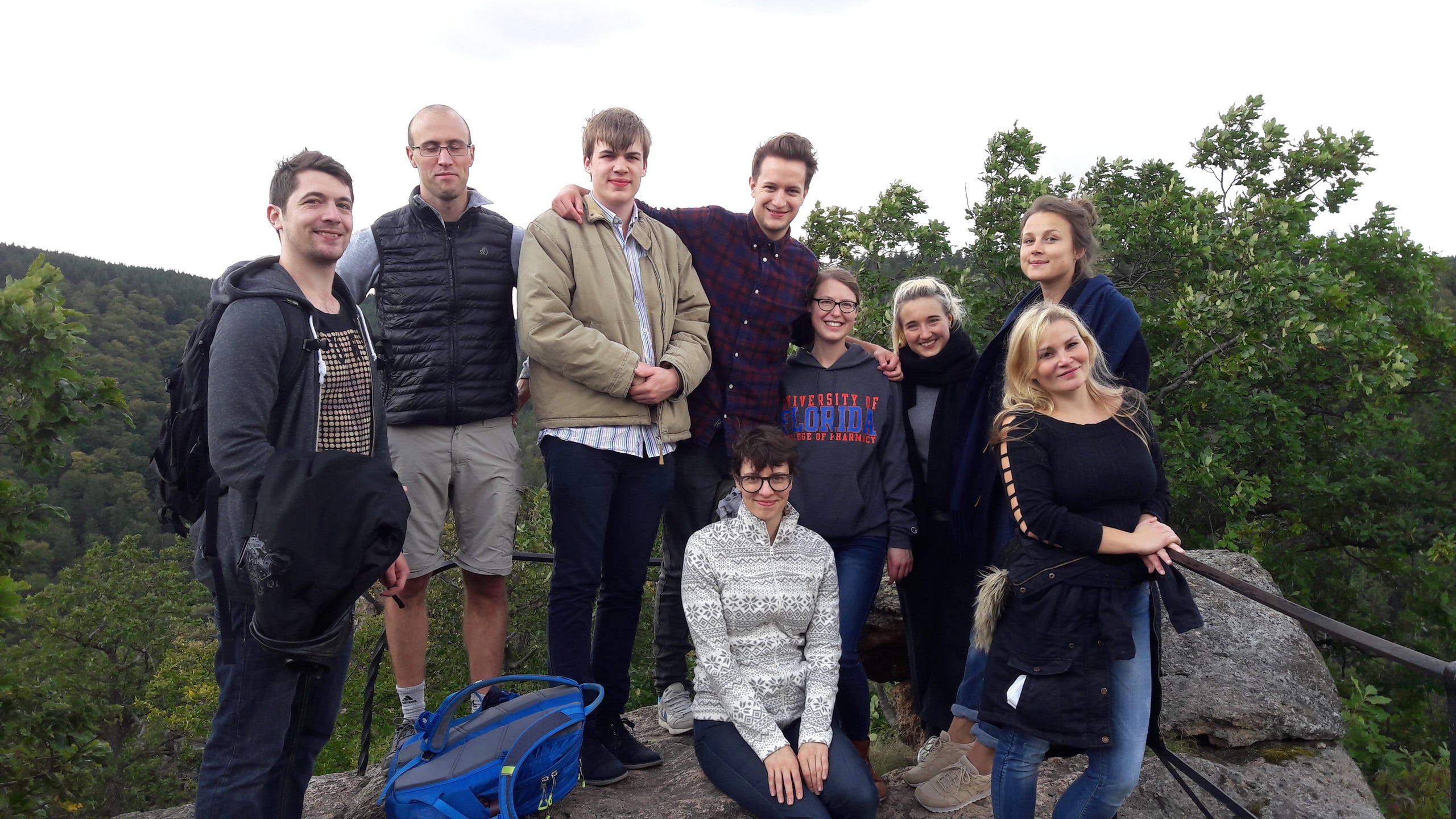 Luise Erpenbeck, MD, lab head
Studied medicine in Magdeburg and Göttingen (2003- 2010) and has been interested in neutrophils and tumorimmunology since working on her thesis "Platelet Receptors and Melanoma Metastasis" (defended 2011). Spent 2 years in the lab of Denisa Wagner (Boston Children's Hospital, 2012- 2014) to learn all about NETs, thrombosis and cancer and has been an independent group leader in Göttingen since 2014. When not in the lab she works as a physician in the Department of Dermatology. Hobbies include spending time with her family, reading, singing.

See publications here.
Elsa Neubert, PhD student
Elsa studied pharmacy in Berlin and briefly worked in a pharmacy before hearing the call of Science and joining our team in 2015. She is working on the molecular mechanisms of NETosis (cosupervised by Sebastian Kruss, Physical Chemistry), the influence of light on neutrophils and the importance of experimental conditions for the induction of NETosis. She also supervises medical students and is involved in our psoriasis projects. She has just submitted her PhD thesis and has been awarded the Egon Macher Award 2019! Apart from that, Elsa is an incredibly talented musician with a specialty in soprano singing.
Julia Grandke, technician
Julia joined our lab at the beginning of 2016, fresh from school. She has since become an expert at imaging and quantification of NETs, all sorts of histological stainings, mouse handling and neutrophil isolation. Her hobbies include taking care of her puppy (who is probably not a puppy any more since we all last saw him) and horseriding, often together with other members of the lab.
Veit Manzke, MD student
Veit was the first MD student brave enough to join our brand new research group in 2015. He worked overtime to establish basically everything in our lab and managed to end up with a very exciting thesis, which is ready to be submitted.
Katharina Marie Bach, MD student
Kathi joined us in 2016 and took on the very challenging project of the influence of light on NETosis. She did not shy away from delving deep into the physics of light and was rewarded with some very interesting insights. She is currently wrapping up her project while continuing her medical studies. She has recently presented her work at the ADF Winter School 2019.
Susanne Senger-Sander, MD student
Susanne joined us in 2016 and studied the influence of the cytoskeleton during NETosis. Her experiments have been very crucial to our understanding of the molecular mechanism of NETosis. Coincidentially, she came across the intriguing finding that certain experimental conditions greatly influence NETosis, which we have just been able to publish at Frontiers of Immunology.
Sophie Scheidmann, MD student
Sophie continued Veit's psoriasis project at the end of 2016 and added some very interesting insights into possible therapeutic options. She is currently writing her thesis and, in parallel, focusing on her medical studies. Her hobbies include cycling.
Anja Kwaczala-Tessmann, MD student
Anja joined our lab in 2015 and has mainly focused on the role of the cytoskeleton during NETosis. She is especially interested in the role of tubulins in neutrophil biology. She is currently preparing her thesis. Lab trivia: Anja met her boyfriend in our lab while he was doing a lab rotation here.
Antonia Luise Gruhn

Antonia joined the lab in 2018 and has since investigated the influence of substrate elasticity in NET formation, a project she competently took over from Gökhan Günay. The project has just been submitted. Antonia is also interested in neurotransmitter singling in the immune system.
(Picture will be added asap).
Gökhan joined our lab in December 2017 and rapidly became very involved in some very promising projects, including the influence of substrate elasticity on neutrophil behaviour and neurotransmitters in the immune system. He decided to leave the lab rather spontaneously due to very personal reasons in December 2018 and go back to his home country. We regret his decision but wish him all the best for his future.